Fri., June 24, 2011, 10:56 a.m.
Kevin: Rex Is Gift That Keeps Giving
Somebody up there must have a soft spot for columnists and editorial writers trying to get through the summer doldrums. How else can you explain Rex Rammell? The former Senate and gubernatorial candidate — and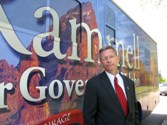 reliable gift that keeps on giving to Idaho political pundits — delivered once again on Thursday. Rammell scheduled a news conference to discuss his latest criminal charge: a felony count of jury tampering. His news conference was cut short. In a scene worthy of an episode of "Cops," Bonneville County deputies cuffed Rammell and squired him away in a squad car, over his objections/Kevin Richert, Idaho Statesman. More here. (SR file photo/Betsy Russell, of Rex Rammell during 2009 guv campaign)
Question: Which political figure is Idaho's looniest tune?
---
---