Tue., June 28, 2011, 1:20 p.m.
SR Opinion Editor Calling It Quits
On Thursday afternoon, after 42 years of newspapering for the Chronicle and The Spokesman- Review, I'm off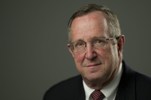 to sample the pastures of retirement. Never one to recognize a good chance to shut up, I'm tempted here to retrace every miraculous technological twist along the road from hot-metal type to Twitter. I heard something like that once from my father, except it was about horse-drawn buggies and jet airliners. Every generation marvels at its own journey, I guess. 'Nuff said. The change that I find most striking, and scary, is not the technological advancement of the past four decades but the way it's being used to poison the public conversation that sustains democracy/Doug Floyd, SR. More here.
Question: Are you a regular reader of newspaper editorial pages?
---
---