WEDNESDAY, JUNE 29, 2011, 5:25 P.M.
Newspaperman Becomes An Ironman
Following is a report by Jody Genessy of the Deseret News who became an Ironman in Coeur d'Alene last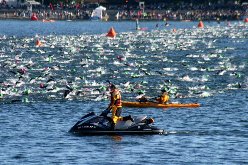 weekend: "I was anything but calm race morning. Amazingly, I actually slept for five hours after dealing with internal issues Saturday (mostly butterflies from the enormous task ahead, and perhaps partly from the big beef and salami sandwich I inhaled). Dealing with an 11th-hour bike problem didn't help. Being with my wife's witty and wise uncle, four-time Ironman Chris, and chatting with amazing friends from my triathlon club, the Desert Sharks, helped ease some race-morning jitters. But as the time to toe the starting line on the beach approached, I couldn't help but thinking: Did I train enough? Can I finish my first marathon after doing the longest bike ride and open-water swim of my life? Will I even make it out of the bitter-cold lake alive? Am I completely nuts?!" Jody's complete story here. (More Main Street photo: Kerri Thoreson)
Question: Can you ever imagine yourself trying to run Ironman Coeur d'Alene?
---
---