Tue., March 1, 2011, 3:51 p.m.
5 Years: Revisiting Schrock Tragedy
It was our assignment manager's idea to check back in with the Schrocks, to see how they're doing five years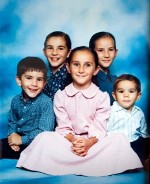 later. I had to talk Jeff into doing the story, as he was reluctant to look like they were publicity-hounds somehow. But, I told him – and, I believe this – that the community needs to see them and know they're lives are moving forward. So many of us prayed for them, we almost needed to know that those prayers did some good. And, I am happy to report, the Schrocks felt that love and support. They knew how much they were loved. And, in November, when that five-year anniversary came and went, Carolyn said she felt that love and support all over again/Melissa Luck, KXLY. More here.
Question: Have you been inspired by the faith and resilience of the Schrock family?
---
---