Wed., March 2, 2011, 8:04 a.m.
Westboro Baptist Wins Court Ruling
The Supreme Court ruled Wednesday that the First Amendment protects fundamentalist church members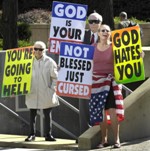 who mount attention-getting, anti-gay protests outside military funerals. The court voted 8-1 in favor of the Westboro Baptist Church of Topeka, Kan. The decision upheld an appeals court ruling that threw out a $5 million judgment to the father of a dead Marine who sued church members after they picketed his son's funeral. Chief Justice John Roberts wrote the opinion for the court. Justice Samuel Alito dissented. "What Westboro said, in the whole context of how and where it chose to say it, is entitled to 'special protection' under the First Amendment," Roberts wrote, "and that protection cannot be overcome by a jury finding that the picketing was outrageous"/Associated Press. More here. (AP file photo)
Question: Does the U.S. Supreme Court opinion in favor of the despicable Westboro Baptist Church make you appreciate our 1st Amendment more/less?
---
---