Sat., March 5, 2011, 6:10 a.m.
Thompson's Feet Are Made Of Klay
Welcome to another session of Prominent Athlete Drug Bust. Join with sports fans here at the busy intersection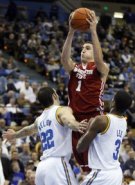 of Thin Moralizing and Convenient Rationalization for reasoned debate, police bashing and stale jokes. Today's perp: Washington State basketball star Klay Thompson. I know, I'm as surprised as you are. I figured him for college basketball's biggest Stiffly Stifferson. You'd think if he was a regular partaker – partoker? – of the herb that he might have lightened the hell up and cracked a smile by now. Lightened, lightened. Not lighted. Sheesh. The Cougars took a stab at playing their way back into the NCAA tournament picture with a solid win over USC on Thursday night in Pullman, the mood leavened somewhat by an ankle injury of indeterminate severity to point guard Reggie Moore. Two hours later, the mood was leadened/John Blanchette, SR. More here. (AP file photo)
Question: How do you react when a key athlete on your favorite team is caught in a criminal act? You want to see him punished appropriately, even if it hurts the team? You secretly want him to skate?
---
---