Mon., March 7, 2011, 1:54 p.m.
CHS Students Cancel AM Walkout
Coeur d'Alene High School students canceled a Monday morning walk-out to protest Idaho's controversial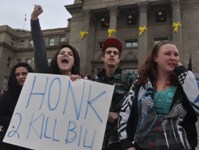 school reform plan after the organizer said he didn't want to jeopardize public support for Tuesday's levy election. "We talked to the administration, and we didn't want to give the impression that students are against the levy," said Jesse Wedewer, a junior at Coeur d'Alene High. The Coeur d'Alene School District is asking voters to approve a $12.8 million-a-year, two-year maintenance and operations levy that would increase taxes by about $68 per year for the average Coeur d'Alene homeowner. Instead, Wedewer is urging students to attend an after-school rally Wednesday to support teachers/Spokesman-Review. More here. (AP, Idaho Press-Tribune file photo/Charlie Litchfield, of Boise High students protesting at Capitol Feb. 28)
Question: Would you participate in a walkout against Tom Luna's education "reform," if you were a high school student in Idaho schools today?
---
---