Wed., March 9, 2011, 8:11 a.m.
Blanchette: Zags' Run Continues
In the garden of Gonzaga basketball have grown any number of dubious truths. The Bulldogs are dragged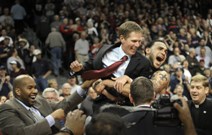 down by a weak league, say. Their thoroughly spoiled devotees take the program's prolonged dominance for granted. And the players – each recruiting class more highly regarded than the last – are increasingly nonchalant about the whole Zag thing. It doesn't mean as much to them. Some of these can be weeds, mistaken for flowers. One undeniable truth: The Zags' run of NCAA tournament appearances will end sometime. Maybe next year's addition of Brigham Young to the West Coast Conference and another round of young recruits will be the tipping point. But whatever the fears of the fan base were in January, this is not that year/John Blanchette, SR. More here. (SR file photo: Christopher Anderson)
Question: What seed does Gonzaga deserve in NCAA Tournament?
---
---