Fri., March 11, 2011, 8:13 a.m.
MLK Bomb Finders Fired For Troubles
The three men who were hailed as heroes by Spokane's mayor and police chief for finding a bomb and reporting it to police say they lost their jobs for their actions that day. The three men were employed by Labor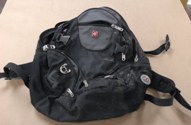 Ready and working under contract for the Spokane Public Facilities District on Jan. 17, when they came upon a backpack and discovered the bomb that was placed along the route of the annual march commemorating Martin Luther King Jr. The names of the men had been withheld since the incident even as high-profile leaders labeled them heroes. Kevin Twohig, CEO of the district, said they didn't want to disclose their names until a bomber had been arrested to protect their safety. Twohig released the names on Thursday. They are Mark Steiner, Brandon Klaus and Sherman Welpton/Jonathan Brunt, SR. More here.
Question: What would you like to say to the guy(s) who fired these three heroes?
---
---