Wed., March 16, 2011, 8:52 a.m.
Playhouse Undergoes $150K Facelift
With 50 years behind it, the Lake City Playhouse continues to stand strong. Perhaps better than ever, thanks to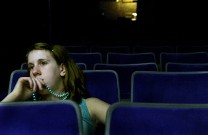 a $150,000 renovation that's on schedule to be completed this year. The significance of the project is clear, said George Green, Playhouse artistic director. "Simply put, it means that our community will have theater that it can be proud of," he said Tuesday. This season, the Playhouse has increased attendance, is operating on a balanced budget, and the production caliber is of "extremely high merit"/Bill Buley, Coeur d'Alene Press. More here. (In this Kathy Plonka file photo, a young actress waits to perform during a workshop at Lake City Playhouse.)
Question: What play did you last see at the Lake City Playhouse? What did you think of the performance?
---
---