Thu., March 17, 2011, 9:27 a.m.
Otter Quietly Signs 2 Luna Bills
Statement issued by Butch Otter as he signed Tom Luna's "education reform" bills into law: "I had the privilege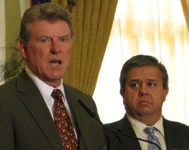 of signing into law today two bills that have been a long time coming, have been publicly vetted and debated to an unprecedented degree, and will improve the ability of our public schools to fulfill their mission of educating Idaho's children. But our work is not done. We are committed to continuing our work with lawmakers and stakeholders on legislation to provide students and educators with the technology and flexibility they need to be successful in an increasingly competitive world"/Betsy Russell's full post here. (AP file photo)
Question: Why did Butch Otter sign Tom Luna's education "reform" into law without fanfare?
---
---