Mon., May 2, 2011, 11:14 a.m.
End Notes: The Burial Of Bin Laden
U.S. officials said they buried bin Laden at sea, and the controversy begins. According to an Associated Press story: "Muslim clerics said today that Osama bin Laden's burial at sea was a violation of Islamic tradition that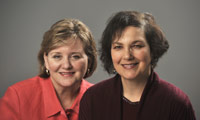 may further provoke militant calls for revenge attacks against American targets." Immediately, I thought of the Greek tragedies in which improper burials were important to the overall narrative. Antigone, the main character of Sophocles' ancient play by the same name, finally kills herself, after being condemned for giving her brother a proper burial. He was thought to be a traitor. Turns out, the gods were on his side. But by the time the word came down, too late for Antigone/Rebecca Nappi, End Notes. More here. And: Islamic scholars question Bin Laden's sea burial/AP
More from SR blogs:
Question: Did the U.S. handle the body and burial of Osama bin Laden properly?
---
---