Mon., May 2, 2011, 8:32 a.m.
Hucks: Worth Dumpster Diving For
Taryn Hecker-Thompson, of Twin Lakes, had one of those "D'oh!" moments at Sonic restaurant on Highway 41 recently – you know, those times when you want to slap your head after you mess up, like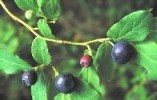 Homer Simpson does. While waiting for an Orange Cream Slush that was calling her name, Taryn picked up trash in her vehicle, put it in a McDonald's bag, and tossed it in the garbage – along with the wallet she'd handled to pay for her drink. Taryn noticed the wallet missing the next day and remembered that the trash she'd tossed at Sonic seemed heavy. Taryn wasn't too worried about losing her driver's license or Social Security card. Those can be replaced. She was more concerned about tossing her fishing license. You can't take the North Idaho out of the girl/DFO, Huckleberries Online. More here.
Question: Have you ever lost your wallet? Which item in it was hardest to replace?
---
---