Mon., May 2, 2011, 12:41 p.m.
Luck: Ephrata Teacher Shaves Beard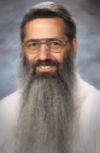 When Osama Bin Laden's terror network attacked the United States on September 11th, Americans vowed to do all sorts of things, from getting tattoos to enlisting in the military. But, a teacher at Ephrata Middle School took another route, saying he wouldn't shave his beard until Bin Laden was caught. Sunday, Gary Weddle got his wish and shaved off nearly 10 years worth of facial hair. Over the years, the beard grew into quite the facial hair masterpiece. But, Weddle showed up to work Monday clean-shaven and no doubt relieved that both the beard and Bin Laden are gone/Melissa Luck, KXLY. More here.
Question: Now that Bin Laden has been buried at sea ... what should Ephrata Middle School teacher Gary Weddle do with the beard he just shaved as a remembrance for the 9/11 attacks?
---
---