Thu., May 5, 2011, 1:02 p.m.
McEuen Field Open House Set Today
An open house for the proposed McEuen Park Project will be held from 6 to 8 p.m. today at the Coeur d'Alene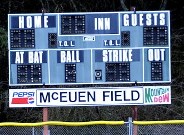 Public Library. Multiple easels with prints of the proposed park, showing the various associated costs of the amenities/elements, will be set up for viewing. Also displayed will be concepts for the boat launch and the baseball field. The purpose of the open house is to show the changes that have been made as a result of the many comments received through surveys, public forums, and personal correspondence. There will be opportunities for discussion with both the Design Team and Steering Committee members/Coeur d'Alene Today. More here.
Question: I'm going to attend the open house for awhile tonight, to see the changes made to the changes after the public input. How about you?
---
---