Mon., May 9, 2011, 2:46 p.m.
Boise State Blows $55K On Rapper
Despite waning state support for higher education during the past few years, Boise State University (BSU)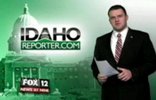 found a way spend at least $55,000 to bring rapper Lupe Fiasco to perform at the Taco Bell arena Saturday for the school's 37th annual "Spring Fling." According to documents obtained by IdahoReporter.com, the performance was funded by student fees, which every student pays as part of the total bill for attending the school. Officials defended the pricy performance, saying that it was a good way for students to relax after long semesters of difficult studies/Dustin Hurst, Idaho Reporter. More here.
Question: Should any college in Idaho be blowing $55K on a rapper, during these hard economic times?
---
---