Wed., May 11, 2011, 1:20 p.m.
Drink In Stunning Views @ Bardenay
The shiny copper distilling equipment and stainless steel storage tanks at the entrance of the restaurant provide a glimpse of what's inside. Bardenay Restaurant and Distillery, with locations in Coeur d'Alene, Boise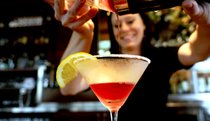 and Eagle, Idaho, is the first combination restaurant and distillery in this country. The name Bardenay comes from an obscure sailing term for any kind of celebratory drink, according to owner Kevin Settles. Overlooking the pond in the Village at Riverstone, the Coeur d'Alene location boasts outstanding views with its wraparound porch, tall glass windows and see-through fireplace. The booths and tables near the window provide the best view, or you can seek out a quieter spot in back with a view of the distillery/Kirsten Harrington, SR. (SR photo/Kathy Plonka: Bar tender Allyson Duvall pours a huckleberry lemon drop martini at The Bardenay on Monday.)
DFO: I hate baring my soul because Cindy has a habit of stomping all over it. But I've only been to the Bardenay once, to share hors d''oeuvres with some office mates. Have no strong impression of the place.
Question: Are you a Bardenay fan?
---
---