Fri., May 13, 2011, 1:13 p.m.
Coupon Passion Lands TV Gig
If using coupons is an extreme sport, Tammilee Tillison (pictured) just made the all-star team. Tillison – a Medical Lake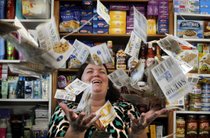 woman who became a coupon demon after losing her job – was featured this week on the latest reality show, "Extreme Couponing." In the episode, she does what all the show's subjects do – lands a huge haul of groceries for pennies on the dollar. In her case, she paid just $17.71 for $640.84 worth of frozen food, aspirin, hot sauce, paper towels … while the cameras rolled and spectators gawked from the second story of the Fred Meyer on South Thor Street/Shawn Vestal, SR. More here.
Question: What do you last buy with a coupon?
---
---