SATURDAY, MAY 14, 2011, 6:15 A.M.
AP: Porn Found At Bin Laden Hideout
A sizeable stash of pornography was among the items seized when U.S. Navy SEALs raided the Pakistani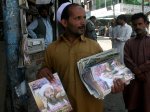 hideout of Osama bin Laden, almost two weeks ago, U.S. officials say. The officials said it was unclear who the material belonged to, and there was no way to know whether bin Laden had viewed it. Bin Laden's son and two other adult male couriers lived at the compound, the officials said, speaking on condition of anonymity to discuss matters of intelligence. The pornography was among the computer materials confiscated in the raid after the SEALs killed bin Laden, ending an almost ten-year manhunt for the terrorist behind the 9/11 terror attacks/Associated Press. More here. (AP photo: A Pakistani vendor sells local magazines carry stories regarding al-Qaida leader Osama bin Laden in Abbottabad, Pakistan on Friday.)
Question: What do you make of this development?
---
---