Sat., May 14, 2011, 6:37 a.m.
Tony Stewart: Aryans Cause Failed Here
For white supremacists who have made North Idaho home over the years hoping the region would one day become a white homeland, Tony Stewart (pictured) has this message: Sorry, but just the opposite is happening.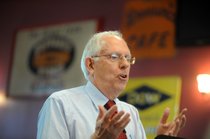 When Idaho's most recent U.S. Census numbers came out, Stewart, a retired North Idaho College political science instructor, crunched the numbers dating back to 1990. He came up with results that bolster his greatest passion – human rights. The co-founder of the 30-year-old Kootenai County Task Force on Human Relations says his results show the increasing diversification of one of the country's whitest regions. ... (Stewart told the Kootenai County Democratic Club Friday): "I stand here 38 years after Richard Butler and the Aryan Nations arrived in northern Idaho to present to you the overwhelming evidence that diversity and a multiculture society is prevailing over the advocates of a whites-only land"/Alison Boggs, SR. More here.
Question: Are you glad to see the growing diversity in Kootenai County and North Idaho?
---
---