MONDAY, MAY 16, 2011, 10:11 A.M.
End Notes: Killebrew Heads Home
Harmon is heading for home. Harmon Killebrew - Baseball Hall of Famer with 573 home runs - is making his way toward home for the last time. He announced last week that he is seeking hospice care after fighting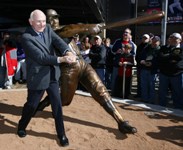 esophageal cancer. As a Minnesota-grown girl, my Minnesota Twins hero was Harmon Killebrew . And I have a 1967 scrapbook that says so. The Killebrew family also lived in our neighborhood for a brief time. We met when their family dog ran away from home and everyone helped in the search. When their dog gave birth to puppies, my sisters and I convinced our parents that a poodle puppy was essential to our happiness. We named the puppy - what else? - Homer. Mrs. Killebrew asked me to baby-sit one evening when she needed to run errands/Catherine Johnston, End Notes. More here.
Question: Has your family ever needed to use Hospice care? What was that experience like?
---
---