Mon., May 16, 2011, 4:07 p.m.
Groene Murders 6 Years Ago Today
"It was six years ago today that the Groene and McKenzie families, and our community, discovered that pure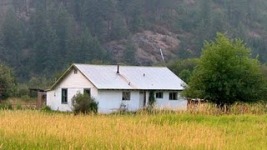 evil exists," posts Kerri Thoreson, More Main Street. "With the murder of Brenda Groene, her middle school-age son, Slade and finance` Mark McKenzie and the kidnapping of her two youngest children, Dylan and Shasta, our collective hearts were broken. The rejoicing for Shasta's return was tempered by the discovery of her brother's body." You can read Kerri's post about the Groene/McKenzie murders & kidnapping here. (More Main Street photo: One year after the murders, this modest Wolf Lodge home belied the horror that was visited about the family who lived there. It's since been torn down.) SR coverage of Groene-McKenzie murders; Joseph Duncan trial here. And: Wikipedia entry re: murder-kidnapper Joseph Edward Duncan III
Question: Has the Groene/McKenzie murders made you even more cautious re: your children?
---
---