Tue., May 17, 2011, 1:30 p.m.
Cindy's Singing New York, New York
Cindy received some great news today. A big--time New York Literary agent called her home and left a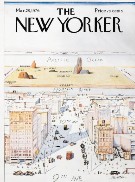 message, saying she's very interested in "War Bonds" (Cindy's collection of stories re: romance and long marriages of the Greatest Generation) and would like to see the full proposal. She also had some bad news: In his excitement to play the message for Cindy, hubby Derek accidentally erased it. But the literary agent followed up with an e-mail. Posts Cindy: "Literary agent already read the proposal and LOVES it. 'It's charming! It's so sweet. I love these stories. I want to start pitching it now to get it in stores by Valentine's Day,' she said. She's sending me a contract right away."
Question: Will Cindy will remember us little Berry Pickers when she's a superstar?
---
---