Tue., May 17, 2011, 3:52 p.m.
Idaho Last In Mental Health Support
Although money for every state was tight this legislative session, one-third of them actually put more toward mental health. But Idaho was not one of them. And with the latest round of cuts, Idaho is now at the very bottom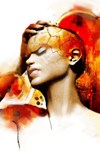 of the list. "I was about in eighth grade when I got depressed and kind of blew it off," says 22-year-old Lindsey Altorfer. "When I was a sophomore in high school I would cry myself to sleep and have panic attacks, and I thought something was wrong, and I kept bearing it and saying I'm fine, until I eventually had a breakdown."
For Altorfer, that breakdown included two hospital stays after suicide attempts. Finally, as a high school senior at Capital High School in Boise, Altorfer was diagnosed as bi-polar with attention deficit disorder/Mike Murad, KBOI. More here. (AP file illustration)
Question: Last in number of women holding judge's positions and now last in mental health support. Is there a pattern here?
---
---