Wed., May 18, 2011, 2:17 p.m.
KEA Blog: Tubbs Hill Is Different
We've written a few times about Tubbs Hill and its intersection with the McEuen Park debate. As the concept proposal for McEuen goes to the City Council next week, the issue of Tubbs Hill is likely to be squarely at the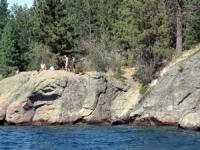 forefront of the Council's consideration. We've spent some time this past week, working with community members, talking to City Council members, and thinking a lot about Tubbs Hill. And we think we've discovered a clear, across-the-board, consensus as to what needs to happen. The problem, at this point, is how to make it happen. We're increasingly of the opinion that considering Tubbs Hill in the McEuen Park context is the wrong approach. Tubbs Hill is different/Terry Harris, KEA Blog. More here. (KEA Blog photo)
Question: Do you agree with Terry that Tubbs Hill should be viewed in an entirely different context than as a part of the greater McEuen Field area?
---
---