Thu., May 19, 2011, 8:22 a.m.
Jack Black To Star In 'Poets' Movie
The latest book by Spokane author Jess Walter will hit the big screen -- and, a major Hollywood actor has signed on to be part of the project! Ealing Metro International and Prescience will finance and sell worldwide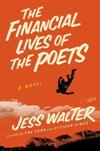 rights on Bailout, based on Walter's book Financial Lives of the Poets. The movie will be directed by Michael Winterbottom and star Jack Black; shooting is scheduled to get underway in August. Financial Lives follows an out of work newspaper reporter, saddled with debt and career uncertainty as the market tumbles. He meets some characters at a late-night gas station and enters into a shady business venture as he tries to save his home and his family. Though never specified, if you read the book, you'll wonder if it's set right here in Spokane/Melissa Luck, KXLY. More here.
Question: Have you ever read a book by my old SR colleague Jess Walter?
---
---