Fri., May 20, 2011, 1:35 p.m.
SR Full Review: 'Wicked'
The first thing a newcomer to the "Wicked" phenomenon will notice is that this production has a great "eye" — a rich visual style, all gears, cogs, clock-faces and Emerald City glow. And then, as the story unfolds, you'll find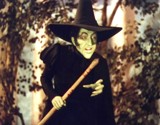 that "Wicked" also possesses — unlike certain Oz denizens — a heart and brains. Brains, because this "Wizard of Oz" spin-off has a funny, first-rate script by Winnie Holzman ("My So-Called Life") that brilliantly distills Gregory Maguire's novel into its essence. It's the story of the fraught love-hate relationship between Elphaba and Glinda (the Wicked One and the Good One, respectively). They're more than just Oz witches; they're universal archetypes, familiar to everyone over age 8/Jim Kershner, SR Spotlight. More here. (AP file photo of original "Wizard of Oz" wicked witch)
Question: "Wicked" may be one of the exceptions to the rule that the book is always better than the movie and/or theatrical production. I love Oz books. But I had to force my way through Gregory Maguire's dark portrayal of Oz and its characters. Anyone else read the book? What did you think of it?
---
---