Sat., May 21, 2011, 6:10 a.m.
Doomsdayers: World Ends Today
The end of the world is (today), according to California minister Harold Camping (pictured), who says his calculations,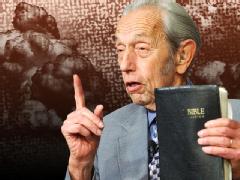 based on an intricate Biblical timeline, tells him that May 21, 2011, is the day the world comes to a screeching halt. Matt Ivers believes it."I quit my job about two months ago," Ivers says. "I wanted to prepare and preach about it." Ivers is a University of Idaho graduate, a smart man, and he says he's studied the Bible and he believes Camping's claims."Its really the Bible saying and declaring its May 21st," he says. Ivers is now standing on Spokane street corners sharing the good news, or bad news, depending on how you look at it/McKay Allen, KXLY. More here.
Question: Had you heard of the religious term "Rapture" before this hubbub began?
---
---