Sat., May 21, 2011, 8:09 p.m.
LCHS Softballers Perfect, Win State Title
Near perfection met perfection Saturday afternoon. Lake City sophomore pitcher Casey Stangel no-hit Timberline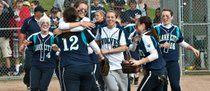 for 6 2/3 innings as the Timberwolves shut out the Wolves of Boise 2-0 in the State 5A softball tournament championship game that started at Post Falls and ended at Lake City. Stangel handcuffed Timberline, coming within an out of a no-hitter. But what was most important to her was the ending – LC finished the season 26-0. "It's OK," Stangel said. "I didn't need a no-hitter. It's a team win." In the game for third place, Centennial handled Mountain View 9-4. In the game for fourth, Rocky Mountain outlasted Coeur d'Alene 5-3 in eight innings/Greg Lee, SR. More here.
Also: Timberlake girls capture state 3A track title/Jordan Rodriguez, special to the SR
---
---