Mon., May 23, 2011, 1:18 p.m.
DanG: No Conflict For Kennedy
On a May 20 thread about possible conflicts of interests involving Mayor Sandi Bloem and the City Council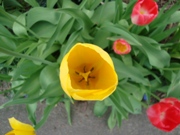 voting on McEuen Field upgrade plans tomorrow, Dan Gookin writes: "The connection between Kennedy and Meyer is weak, Mary. Mike will not personally benefit from his decision and unless you can connect a "bonus check" to his vote, there's no case there. What's more of an issue for Kennedy is his adamant promise to the ball players that he would "fight" to keep the ball fields at McEuen. I wouldn't be surprised if he stays true to his word and votes NO on the project because of the ball fields." You can read more of his comment here (No. 21). (Special to Huckleberries: Stickman's photo of Tubbs Hill flowers)
BTW: If you read the following comment, you'll see that Mary Souza totally disagrees w/DanG on this issue. Also some entertaining back-and-forth between Eric & Happy Trails (who identifies himself as Starr Kelso).
Question: Do any of the Coeur d'Alene City Council members -- or Mayor Sandi Bloem -- have a conflict of interest in voting on propose McEuen Field upgrades?
---
---