MONDAY, MAY 23, 2011, 8:19 A.M.
Everything's Coming Up Mushrooms
We went morel mushroom hunting three times this week. Yeah, it's been grueling. Had to walk out the back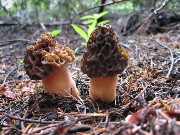 door, take a couple steps to the garden, load up with morels and walk all the way back into the house. We can hardly believe our luck. We've been having a bodacious morel harvest right in our own city yard. Dinner has been pretty easy around our house. A couple of days ago, we had morels sautéed in butter. Yesterday we had morel-asparagus-cream sauce with rigatoni. Today? I don't know. A nice bowl of morel risotto sounds nice. And we owe it all to beauty bark/Jim Kershner, SR. More here. (SR file photo: Rich Landers)
Question: Do you eat mushrooms that you find out in the wild?
---
---