MONDAY, MAY 23, 2011, 9:49 A.M.
Fly Fishermen Can Always Improve
While fly fishing the Missouri River a few years ago, a friend of mine – close enough to be funny and frank at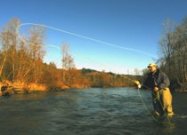 the same time – called from upstream and said, "Did anyone ever mention you cast like an old lady?" "That comment is an insult," answered another friend from downstream. "I don't know any old ladies who cast that poorly." Funny, but basically true. I'm adequate. I catch fish when I go fly fishing – sometimes more fish than my generously talented partners – but it's not pretty. I've simply never made time to learn and practice proper fly-casting techniques/Rich Landers, SR. More here. (SR photo: Rich Landers)
Question: Fly fisherman or worm/bait fisherman?
---
---