Mon., May 23, 2011, 11:11 a.m.
The Slice: The Road Not Taken
SR writer Paul Turner re-enters the blogosphere again today w/The Slice blog:
Maybe some of us were destined to wind up in this neck of the woods. The other day I was going through a box of ancient personal papers. I came across a reminder that I almost went to the University of Idaho. Back in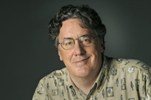 the mid-70s, while in my second year as a student at a tiny state college in Vermont not far from home, I decided that my life really needed to be more like an Eagles song. So I applied to several medium-sized schools in the Intermountain West. The U of I was kind enough to accept me. And I recall thinking that "the University of Idaho" would sound exotic to my friends in New England. It might even appear that I had a real plan, which I most assuredly did not. "A Vandal? It's, um, a righteous pillager. Or something"/Paul Turner, The Slice (blog). More here. And The Slice blog.
Question: Ever been pawing through some old box of stuff and found a fork in the road?
---
---