Tue., May 24, 2011, 5:12 p.m.
Cancer Claims Lake City Downwinder
Shannon Rhodes' losing battle to prove that Hanford radiation emissions caused her spreading thyroid cancer spanned two trials and ended in federal court six years ago. Now, her life has ended as well – cut short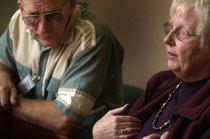 by complications from metastasized thyroid cancer. Rhodes, a Coeur d'Alene artist and writer, died May 15 at her winter home in Green Valley, Ariz. She was 69. ... Rhodes was born in Spokane in 1941 and grew up near Colfax, where she lived on a farm. She was exposed to radioactive iodine-131 emissions from Hanford in the final years of World War II and the early years of the Cold War, according to a claim filed against the private contractors who ran Hanford for the governmentKaren Dorn Steele, SR senior correspondent. More here.
Question: Do you personally know any downwinders affected by Hanford radiation emissions?
---
---