Tue., May 24, 2011, 9:43 a.m.
Get Out! Review: Jonesy's
Personally, I've never really had a nickname that stuck with me. When I was just a wee moppet, my mother would occasionally refer to me fondly as her little "Stinky McGooberkins", but if anyone called me that now,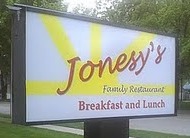 they'd most likely get shanked in the spleen with the business end of a broken bottle of Jägermeister. On the other hand, Tim Mitchell, owner of downtown Coeur d'Alene's newly opened Jonesy's restaurant had a childhood nickname that he thinks still rocks. According to the Jonesy's Facebook info, the name on the sunny yellow sign out front is what has always made Mitchell's head turn and say "huh?" every time someone says it/OrangeTV, Get Out! North Idaho. More here.
Question: What was your childhood/teen nickname?
---
---