Wed., May 25, 2011, 9:30 a.m.
Council OKs McEuen Field Changes 5-1
Originally posted at 10:40 p.m. Tuesday (also see KXLY video below)
The Coeur d'Alene City Council on Tuesday voted 5-1 to move forward on a plan to dramatically update its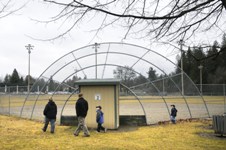 aging downtown park, McEuen Field, despite extensive opposition, mostly to removing the baseball fields and the Third Street boat launch. "You can beat on me. You can not like me. My next time around if you don't re-elect me, that's fine," said Councilman Woody McEvers. But, he said, "I'm going to do the best job I can for the future. I'm doing the best I can and that's how I came to this decision." Councilman Ron Edinger cast the dissenting vote. "I've got a clear conscience. I can get up and look in the mirror and say, 'Ron, you did one hell of a job,'" Edinger said to wild applause from the crowd, most of whom favored putting the matter to a public vote/Alison Boggs, SR. More here. (SR photo: Dan Pelle)
You can read my posts from Tuesday night's meeting below:
Question: Do you agree with the council's 5-1 decision to move ahead with McEuen Field changes?
---
---