Wed., May 25, 2011, 2:55 p.m.
KEA: Removing Tubbs Hill Right Call
The Council's action (to remove Tubbs Hill from proposed McEuen Field discussion) recognized that there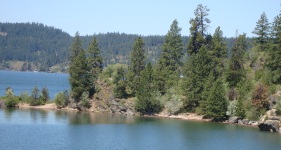 was a consensus that accessibility concerns needed to be addressed on Tubbs Hill. With Kennedy's amendment, the issues relating to Tubbs Hill were remanded back to the Parks Department to draft a specific comprehensive management plan to address trail accessibility, public safety, connectivity, forest health, invasive species, and ongoing maintenance. The Department was directed to collaborate with stakeholders including the Tubbs Hill Foundation and the disability community. Kennedy's amendment also will require a specific report back to the Council with dates and schedules for implementation/Terry Harris, KEA Blog. More here. (Courtesy photo: Stickman)
Question: Do you agree with the City Council decision to remove Tubbs Hill from the proposed upgrades to McEuen Field?
---
---