Wed., May 25, 2011, 5:31 p.m.
Oprah Signs Off For Last Time
After 25 years on the air, Oprah Winfrey ended her famous talk show on Wednesday by sharing memories, reflecting on life lessons and thanking fans for coming along on the journey with her. The episode featured no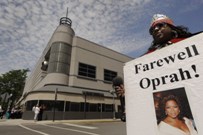 guests - just Winfrey herself, standing alone on stage. It opened with a clip from her first show, and she then spent the hour showing favorite clips from throughout the years and recounting what she's learned during the show's quarter-century run. She told viewers that sometimes she was a teacher - calling her show "the world's biggest classroom" - but more often her viewers instructed her. She called Wednesday's episode her "last class"/CBS, AP. More here. (AP photo: Kimberly Adams waist outside Harpo Studios before the final taping of "The Oprah Winfrey Show" in Chicago)
Question: What are you going to do now that Oprah Winfrey has shut down her show?
---
---