TUESDAY, MAY 31, 2011, 8:38 A.M.
Press: Task Force Lives In The Past
Over the weekend, Editor Mike Patrick of the Coeur d'Alene Press chided the Kootenai County Task Force on Human Relations for "living in the past." Quoth: "(Human Rights Education Institute) is trying to grow into a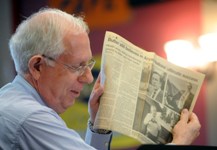 broad-based human rights education organization, while the task force seems stuck on racism and its glory days of bringing down Richard Butler and his band of Aryan misfits. Ignoring history may guarantee that it's repeated, but living in the past assures one never progresses. In our view, there is too much emphasis from the task force on what was, and not enough on what is or what can be. Constantly reliving the rise and fall of Butler's pathetic little empire does more than keep the past alive and give it ever greater significance in the annals of North Idaho; it reopens wounds among a compassionate populace. And it provides parasitic modern-day racists with the attention they must have to survive." Full editorial here. (SR photo/Kathy Plonka: Human rights leader Tony Stewart holding up a 1988 edition of the Oregonian.)
Question: Is the Kootenai County Task Force on Human Relations living in the past? Or is the Coeur d'Alene Press trying to sweep bigotry under the rug?
---
---