Wed., Nov. 2, 2011, 5:36 p.m.
E! Didn't Manage Kardashian Nuptials
Kim Kardashian's lightning-quick marriage shouldn't have any impact on the E! Entertainment network's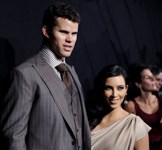 relationship with the reality TV family despite some shuffling this week, E!'s chief said on Wednesday. E! moved up, and then moved back, a rerun of Kardashian's lavish wedding to pro basketball player Kris Humphries after Kardashian announced this week that the marriage was kaput. The network, feeling its reputation sullied, put out a statement calling rumors that it had orchestrated the wedding for TV to be "completely false." "I don't even know if Kim has had a chance to emotionally process this the way that she needs to," said Suzanne Kolb, president of the E! Entertainment. "I don't have any indication that this is going to change her career path"/CBS News. More here.
Question: Can you think of anything of significance that lasted shorter than Kim Kardashian's marriage?
---
---