Fri., Nov. 4, 2011, 2:39 p.m.
300 Megaloads Coeur d'Alene Bound?
Imperial Oil/ExxonMobil has applied to the Montana Department of Transportation to send all its remaining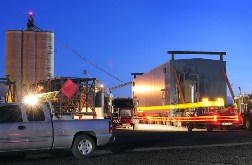 Canada-bound megaloads of oil equipment along freeway routes, rather than along scenic U.S. Highway 12, the Associated Press reports. The application covers about 300 reduced-size loads headed to Alberta via interstates 90 and 15; Exxon's original proposal to send more than 200 giant loads across the twisting scenic route's Idaho portion prompted protests and legal challenges. The firm then began reducing the height of the loads and sending them on freeway routes, including up Highway 95 from Lewiston to I-90 at Coeur d'Alene/Betsy Russell, Eye On Boise. More here. (AP/Lewiston Tribune photo: Kyle Mills)
Question: Anyone been stuck behind one of these megaloads?
---
---