Fri., Nov. 4, 2011, 8:24 a.m.
KXLY: Edgar Steele's Last Stand
"I always thought I'd like to end my career with one big case involving real government tyranny and genuine wrong-doing that you can point to and people would be marching in the streets," Steele said. "Lo and behold --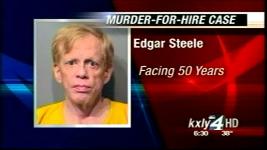 ironically -- I've almost got the case and its mine." Steele made a name for himself ten years ago, representing those on the fringe. He represented the McGuckins, a North Idaho family whose children held government agents at bay with guns and guard dogs for days on end. He also represented the Aryan Nations in a civil case that bankrupt the movement. You can't talk to Steele without hearing his views on race."People live in North Idaho and they're here for the weather, they're here for the lack of population, they're here for the good shopping, they're here for the transportation," he explained. "Those are acronyms, code words, for living apart from other races. I don't use those code words. I just say I prefer to have my family live somewhere that is not riddled with the crime that comes with Mexicans and blacks living all around you"/Melissa Luck, KXLY. More here.
Question: Do you feel sorry for Edgar Steele?
---
---