FRIDAY, NOV. 4, 2011, 5:36 P.M.
How To Explain Kardashian Wedding?
All over America this week, parents faced a very modern problem: how to explain the Kim Kardashian divorce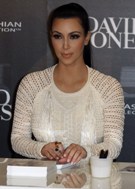 to their children. How could it be otherwise? America's latest approximation of a royal wedding is still playing on TV, over and over and over again, even though it's been more than a week since the professional reality TV starlet told the tabloids that she had filed for divorce from Kris Humphries, a basketball player for the New Jersey Nets. Yet the kids come home from school and there it is on the tube, in high definition: America's fairy-tale wedding. The cognitive dissonance was smothering. For a while this week, it seemed that the Kardashians were all that America was talking about, Greek debt be damned/Brian Stelter & Noam Cohen, New York Times. More here. (AP photo, of Kim Kardashian signing autographs)
Question: Who should get the $2 million ring that Kris Humphries gave to Kim Kardashian back in the good ol' 72 days when they were newlyweds in love? And/or: Does this sham marriage prompt you to re-define what marriage is all about?
---
---