FRIDAY, NOV. 4, 2011, 11:50 A.M.
Karl Thompson Taken Into Custody
A federal judge in Yakima ordered Spokane Police Officer Karl F. Thompson Jr. taken into custody this morning following his conviction on charges of using excessive force and lying to investigators. Some three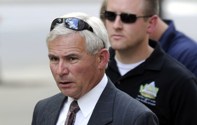 dozen Spokane Police officers and other supporters stood when someone yeled "Present Arms" and saluted Thompson as he was led away, without being handcuffed, after being convicted of using excessive force on Otto Zehm and later lying to cover up his actions. As the crowd saluted in unison, Jeffry Finer turned and apologized to Zehm's family, whom Finer is representing in a companion civil suit. "The salute was meant to be respectful," Finer said. "But it seemed to be given with no thought of the victim's family seated inches away"/Thomas Clouse, SR. More here. (Dan Pelle SR file photo -- of Karl Thompson)
Question: Should Karl Thompson have been taken into custody so soon after the verdict?
---
---