Fri., Nov. 4, 2011, 12:45 p.m.
Scotchman Peaks Remains Snagged
Phil Hough could smell the mountain goats before he saw them. Shrugging off his pack, he looked around the summit. "It sure smells like goats up here." And sure enough, there they were: four of them, white dots in two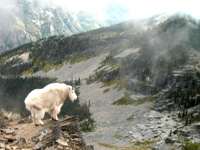 pairs, lounging on jutting outcroppings of rock across a dizzying ravine. The goats — hulking, horned and shaggy, with sad-looking old-man faces — are a major attraction at Scotchman's Peak. They even serve as its unofficial mascot. At 7,009 feet, the peak is the highest point in North Idaho's Bonner County and gives its name to the rugged 88,000 acres surrounding it. Vegetation is sparse, and the clammy October clouds run ragged across the summit. The goats, though seemingly fearless in their surefootedness, live a precarious existence amid the shattered high mountain rocks. ... "Their mortality rate is 50 to 70 percent in early childhood — from falling," Hough says. The future of the Scotchman Peaks area is similarly precarious. A proposal to designate it as federally protected wilderness has been stymied for years by opposing interests, ideologies and jurisdictions/Zach Hagadone, Inlander. More here. (Zach Hagadone Inlander photo: Scotchman's Peak is the highest point in Bonner County)
Question: Have you ever hiked Scotchman's Peak?
---
---