Sat., Nov. 5, 2011, 12:05 a.m.
Feds To Review Judge Lashing Teen
Federal prosecutors agreed Friday to look into a video that shows a Texas judge lashing his teenage daughter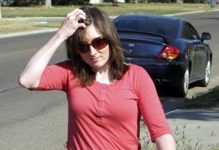 with a belt, a police chief said a day after authorities said too much time had passed to consider state charges. Rockport Police Chief Tim Jayroe said he discussed the 2004 video of Aransas County Court-at-Law Judge William Adams beating his then 16-year-old daughter with a prosecutor from the U.S. attorney's Corpus Christi office. ... Hillary Adams (pictured), now 23, posted the 8-minute clip on YouTube last week that shows her father viciously lashing her with a belt and trying to force her to bend over her bed to be beaten despite her pleas to stop. The clip had received more than 4 million views by Friday/Associated Press. More here.
Question: Did Hillary Adams do the right thing by posting the video on YouTube?
---
---