MONDAY, NOV. 7, 2011, 1:15 P.M.
Kershner: Culinary Odyssey To Hell
'Hey, they have a Hot Wings Challenge," said my friend Ralph Walter, as we perused the Rex's Burger and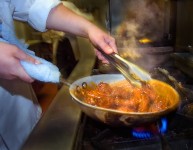 Brews menu. "I'd be up for that." "Yeah," I replied. "You should do it." "No," said Ralph. "I'm up for watching you do it." One thing about Ralph, he believes in getting outside of one's "comfort zone," especially when it's my comfort zone. So this is how I found myself back at Rex's Burger and Brews on Thursday night, ordering the $14.95 Hot Wings Challenge. The rules go like this: You have 20 minutes to eat eight hot wings covered in Rex's super-secret hot sauce. You may not have anything to drink during those 20 minutes. Once finished, you must wait an additional 10 minutes before you can have anything to drink. If you succeed, your hot wings are free and your picture goes up in the Hall of Fame/Jim Kershner, Twin Falls Times News. More here. (SR file photo for illustrative purposes)
Question: My father enjoyed the hottest of hot peppers and his food spicy. Moi? Mild sauce at Taco Bell is my limit. How about you? Can you handle hot, spicy food? Or are you more of a spice wimp like me?
---
---