Wed., Nov. 9, 2011, 1:07 p.m.
Davis, Iupati Form Bond In Trenches
Throughout a half-hour joint interview late last week, Anthony Davis (right) and Mike Iupati (left) repeatedly finished each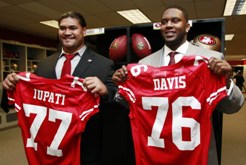 other's sentences. Barely two years after they met at a college football awards ceremony, they call themselves brothers. The 49ers picked both of them in the first round of the 2010 draft to clear paths for Frank Gore and protect Alex Smith. They couldn't have predicted how the two offensive linemen would look after one another. "When they got him at (No.) 17, that just made my draft day that much better," said Davis, whom the 49ers claimed with the 11th pick out of Rutgers/Gwen Knapp, San Francisco Chronicle. More here.
Question: Who is your favorite NFL football player? Why?
---
---