Wed., Nov. 9, 2011, 8:10 a.m.
Reagan Repubs Boot Home 7 Winners
Originally posted at 12:02 a.m. today
Seven of seven candidates endorsed by the Kootenai County Reagan Republicans won handily last night in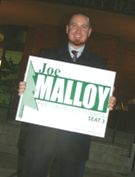 four different towns staging mayor and city council elections. No where will the money and influence of the Reagan Republicans be felt more than in Coeur d'Alene, where challengers Steve Adams and Dan Gookin ran ahead all night to win with 56% and 54% of the vote, respectively. Council incumbent Ron Edinger, who wasn't endorsed by the Reagan Republicans, swamped his opponent with 72% of the vote. All three winners in Coeur d'Alene support a public vote on proposed changes to McEuen Field. Other Reagan Republican winners were: Kerri Thoreson, Skip Hissong, and Joe Malloy in Post Falls council races; Tim Timmins in a Hayden City Council race; and Vic Holmes in the Rathdrum mayor's race. (Kerri Thoreson photo: Victorious Post Falls council candidate Joe Malloy at City Hall Tuesday night)
Question: Are you excited/disappointed by 2011 city election results in Kootenai County?
---
---