Wed., Nov. 9, 2011, 9:50 a.m.
Vestal: A New View Of Karl Thompson
Karl Thompson looked like a whole new man. When he walked into the federal courtroom Monday, he wore yellow jailhouse garb – the blousy top a shade darker than the loose pants. Big black letters on the back read: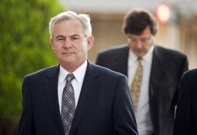 BONNER COUNTY. On his bare feet were cheap plastic sandals. Gray scruff stood out on his chin, and his usually neat white hair was very slightly disheveled. His hands – the hands that had placed countless criminal suspects into cuffs over his career as a cop – were locked behind his back. He looked smaller, sadder, diminished. "I wasn't prepared for that," said one of his supporters. Neither was I. Nor was I prepared to look at Thompson and feel what I felt: sympathy. It's a sympathy tempered by anger at what he did to Otto Zehm and the city's long string of mistakes in the case/Shawn Vestal, SR. More here. (SR file photo by Colin Mulvany)
Question: Do you have sympathy for 64YO Karl Thompson and what he's facing -- 6-10 years in prison for his actions in the death of Otto Zehm?
---
---